Learn Why You Should Choose This Innovative Healthcare Model for Your Children
At Balanced Physician Care, we offer affordable Direct Primary Care membership plans for parents and their children. Direct Primary Care ("DPC") is an innovative model of medical care that provides transparent, comprehensive, affordable, and accessible care. For a small monthly fee, your family can have full access to a physician 24/7 by phone and text. This level of care is designed to help you simplify your life and optimize the health of everyone in your family.
The following outlines the benefits of a DPC membership for your children:
We Offer Improved Patient Relationships & Convenient Care
Our physicians don't work for insurance companies. Instead, we work for patients and their families. In addition to being available 24/7 by phone and text, we also offer same day in office appointments with no wait times. If your child is severely allergic to insect bites and gets bit by fire ants, instead of rushing to the hospital or an acute care center to wait hours for someone to see you, you can text a photo of the bite to your physician, who will review the photo, and call, text or email you immediately with care instructions. If your child gets a cold or the flu, by going through a series of questions, your physician can diagnose your child's infection and order an antibiotic by phone, without you ever having to leave the comforts of your home.
We Help Manage Your Child's Chronic Illness
When a child is diagnosed with a chronic illness such as asthma, diabetes, obesity, or mental illness, regardless of your wealth, it is a burden on any family. Children with chronic illness may be well at any given time, but they are always living with their condition. Parents are required to deal with the child's needs on a daily basis. At Balanced Physician Care, our goal is to create a treatment plan that helps reduce your child's symptoms and your family's overall healthcare costs. If your child suffers from a chronic disease such as diabetes, our physicians can provide the tools your family needs including, nutrition and diet evaluations, advice on supplements and multi vitamins, and help creating personalized exercise programs.
We Help Keep Your Child's Brain and Body Conditioned
Whether your child is an all-star athlete or all-star mathlete, to ensure they perform at the top of their game, they will need diet, nutrition and exercise advice from a medical professional. At Balanced Physician Care, we offer annual physicals for all of our members, including Sports Physicals. Additionally, our physicians will work with you and your child to develop a diet and exercise plan, teach injury prevention strategies, and mind-body techniques for improving performance.
We Prescribe Wellness, Not More Meds
When thinking about your child's health, it is important to also think about the long-term effects of taking medications. Some medications are absolutely necessary; while some can be completely avoided by improving diet, sleep habits, and physical activity. At Balanced Physician Care, our founder & physician, Dr. Sharyl Truty is board certified in Family Medicine and Sports Medicine. Dr. Sharyl uses her background in Integrative Medicine to apply a holistic approach to healing for our patients and their children. From managing chronic illness symptoms to pulled muscles and other acute injuries, our physicians will work with you and your child to create a holistic treatment plan that you can trust.
Invest in Direct Primary Care for Your Child Today!
Dr Sharyl Truty MD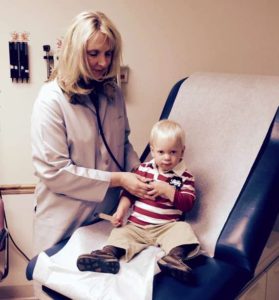 At Balanced Physician Care, we work with your family to create a wellness plan that simplifies your life and optimizes your health.  Child Add-On Memberships are just $69 a month.
And the more family you add, the bigger the savings...
Introducing the Family Plan, With the purchase of two, Adult DPC Memberships, you can include up to 3 dependent children for just an additional $69 a month. For more information on Balanced Physician Care, call (904) 930-4774 or visit BalancedPhysicianCare.com