At Balanced Physician Care, We care for all ages. You can feel comfortable that our providers have the knowledge to take care of you and your family's medical needs. Our physician experience extends from the care of infants all the way to older family members
Our Staff will provide you the best medical treatment available. We take the time to explain any treatment and answer all your medical questions. Our friendly staff will treat each patient with the same respect as one of their own family members.
Balanced Physician Care is a NEW approach to healthcare called Direct Primary Care.  Thousands of doctors are turning to this new model to provide better patient care.
So, What's different than a traditional clinic?  We DO NOT accept Insurance* for our services...don't worry you can still continue to use your Insurance for Bloodwork, Testing, Imaging (MRI, CT, X-Ray, etc), Specialist Visits, Hospital Visits, Etc...Our providers can order tests and referrals as any traditional primary care. All the stuff insurance was meant to cover...not your day to day primary care.
This means you can have a relationship with your physician without the intrusion of a middle-man. Regular Office Visits ( including Primary Care, Pediatrics, Women's Health, & Men's Health ), 24/7 Urgent Care, Telemedicine, Email, and Telephone Communication with YOUR Doctor...All INCLUDED for a flat, low monthly, Membership Fee.  NO Deductibles to meet with us!
Just quality, honest health care, the way it was meant to

be.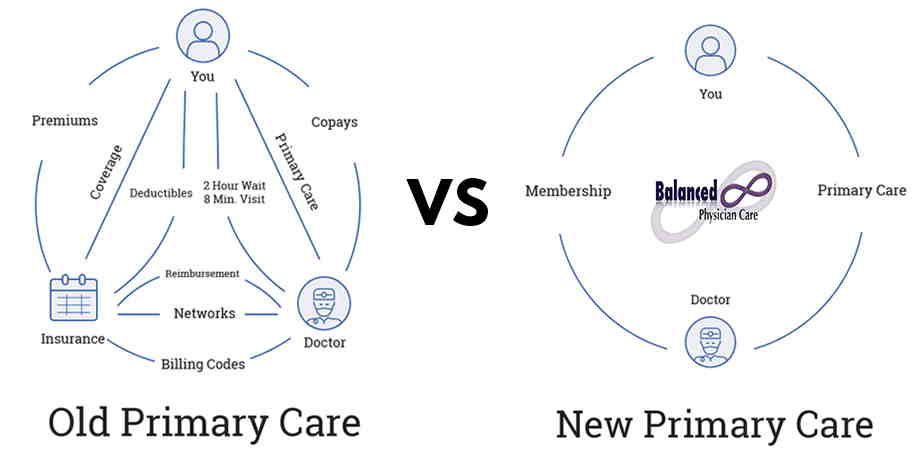 This is your health and your Choice.
Currently, the only insurance plan accepted by Balanced Physician Care is Medicare, when Medicare is the patient's primary insurance. Medicare patients are requested to become members of our clinic and pay a monthly membership fee for the non-covered Medicare services outlined in the membership agreement. Claims will be submitted under Medicare guidelines only when Medicare provides primary coverage. BPC does not accept Medicare secondary coverage or any Medicare Advantage plans at this time.
Please note: Our rates are subject to change.
"Best Physician"
"Best Naturopathic Doctor"
"Best Acupuncture"