At Balanced Physician Care, We care for all ages. You can feel comfortable that our providers have the knowledge to take care of you and your family's medical needs. Our physician experience extends from the care of infants all the way to older family members
Our Staff will provide you the best medical treatment available. We take the time to explain any treatment and answer all your medical questions. Our friendly staff will treat each patient with the same respect as one of their own family members.
Balanced Physician Care is a NEW approach to healthcare called Direct Primary Care.  So, What's different than a traditional clinic?  We DO NOT accept Insurance* for our services...don't worry you can still continue to use your Insurance for Bloodwork, Testing, Imaging (MRI, CT, X-Ray, etc), Specialist Visits, Hospital Visits, Etc...Our providers can order tests and referrals as any traditional primary care. All the stuff insurance was meant to cover...not your day to day primary care.
This means you can have a relationship with your physician without the intrusion of a middle-man. Regular Office Visits ( including Primary Care, Pediatrics, Women's Health, & Men's Health ), 24/7 Urgent Care, Telemedicine, Email, and Telephone Communication with YOUR Doctor...All INCLUDED for a flat, low monthly, Membership Fee.  NO Deductibles to meet with us!
Just quality, honest health care, the way it was meant to

be.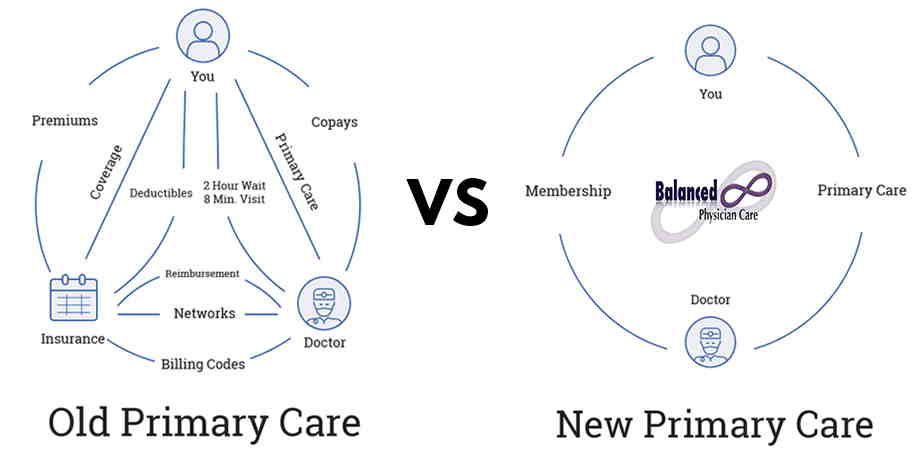 Comprehensive
At Balanced Physician Care, we have developed a wide breath of services which you will have access to as part of your membership, so you can choose what a personalized treatment plan that works for you and your values. Whether thats advice on the best specialist in the Jacksonville area for your problem or advice on the most natural way to approach healing your medical issues. Best of all, you may not even need to come into the office. With the emphasis on care no longer on the in office visit, we can take care of many of your needs from the comfort of your own home. We view the patient-physician relationship as a team of equals with a single focus to help you reach your health care goals.
This is your health and your Choice.
Our Values Optimized Health & Wellbeing
Creating wellness takes time. All of us want the vitality and quality of life that true wellness can provide. Most people lead busy lives with having much to balance. We want to be the provider that makes it simple for you cultivate the wellness you value. We provide you a breadth of simplified options to improve your vitality. Time spent on the phone trying to make an appointment, talk to a health provider or in an office waiting to see a provider may be time better spent doing something else. Our goal is to provide you with the best healthcare experience possible.
Personal
Our noble ambitions at Balanced Physician Care revolve around giving you the most individualized care imaginable. We believe the best medical treatment comes from from one-on-one interaction, so we're eliminating the middle man and inviting you into our family. Your personal physician will serve as your personal health care advocate and assist you with every aspect of your medical needs.
Accessible
We want you to email, text, web-chat, or come in and see your doctor…..for as long as you want. Just tell us what you need and we will work with you to find the best time and the best way to address your issue. Whether that may be an appointment or a phone conversation or a web-chat.
Affordable
Unlike most high-end concierge practices, direct primary care memberships strive to be affordable. Our monthly fee is equivalent to most health-care membership products and provides you with many valuable member benefits that are often not able to be provided by other health-care practices that accept insurance. With our membership you are NOT buying insurance, you ARE buying comprehensive, accessible care from your doctor.
The Balanced Physician Care clinic has been established as a self-pay clinic. Please be prepared to pay for all procedures beyond our basic membership on the same day of service. If you wish to try to obtain insurance reimbursement on your own, documentation of your clinic visits can be obtained one week after the date of your request.
Currently, the only insurance plan accepted by Balanced Physician Care is Medicare, when Medicare is the patient's primary insurance. Medicare patients are requested to become members of our clinic and pay a monthly membership fee for the non-covered Medicare services outlined in the membership agreement. Claims will be submitted under Medicare guidelines only when Medicare provides primary coverage. BPC does not accept Medicare secondary coverage or any Medicare Advantage plans at this time.
Please note: Our rates are subject to change.