What Is Direct Primary Care?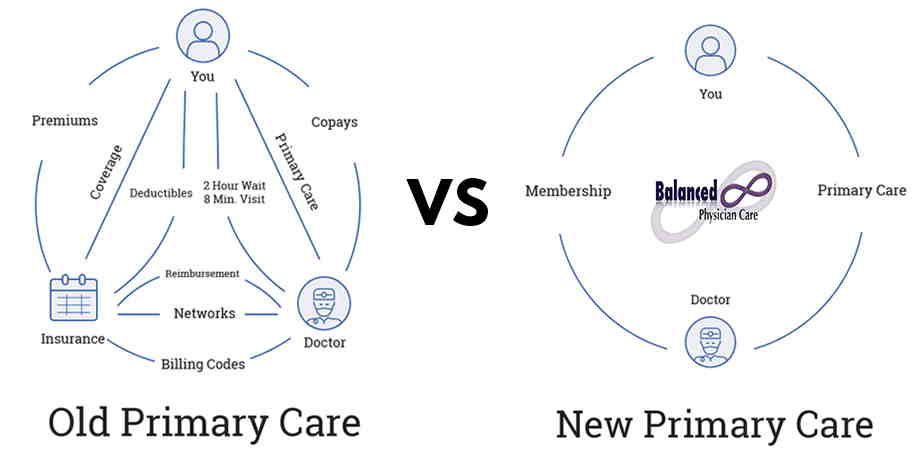 Direct Primary Care membership is for those patients who want to regain a personalized relationship with their physician. If you believe that there is no substitute for time and well-educated, experienced advice from a doctor who knows you well…..then you'll be thrilled to join Balanced Physician Care.
A Direct Primary Care membership is for those who DO NOT have insurance but want the peace of mind of having a doctor who cares about their health and wellbeing.
A Direct Primary Care membership is also for those who are forced to choose a high-deductible health plan due changes in current health care law (Affordable Care Act) or financial considerations. It is an opportunity to still experience the value of a primary care physician-patient relationship and receive the benefits of discounted pricing for services that a membership can offer. (Think Costco)
A Direct Primary Care membership is for the small business owner who wants to improve the health profile of their employees, provide them with basic primary care options, and return the choice of health care back to its individual employees. This can be done in an economical way by combining a Direct Primary Care membership with a high-deductible "wrap-around" health plan or an Affordable Care Act Exchange Plan.
Personalized visits with your physician
Relaxed, Unhurried, complete Office Visits or Online Visits with your personal physician.
Unhindered communication with your physician
Emails, phone calls, etc. with our responses based on time of day and how you contact us.
Management and treatment of acute medical problems
Colds, flu, ear infections, urinary tract infections, boils, small lacerations, non-life-threatening trauma, etc.
Stitches, wound care, I&D, simple fracture casting, in-house labs (like strep swabs, urine testing), ear cleaning, EKGs, etc.
Visit & procedure included; supplies are an additional small cost
Chronic disease management
Heart failure, asthma, diabetes, high blood pressure, obesity, etc.  Coordination with Specialists
Complete blood count, comprehensive metabolic panel, thyroid stimulating hormone, urinalysis, and cholesterol markers
We even have an in-office lab
INCLUDED with Premier Membership
Discounted with Basic Membership
Non-routine/Specialty labs
Testosterone, Iron Studies, Toxic Metals, Hepatitis testing, Adrenal Stress, NutraEval etc
additional cost, special member pricing
We find the best possible prices for your medications (like antibiotics, antidepressants, blood pressure medications, etc.) We even have popular prescriptions available at our office at wholesale prices!
additional cost
special member pricing
X-Rays, MRIs, CT Scans, Mammograms, etc
Special Pricing for Members
Membership Includes:
Personalized Patient Care with easy access to your M.D.
Extended, Relaxed visits
Full Access via Technology -
You'll be able to reach our team via phone, e-mail, webcam and more
All Medical Procedure fees - Included*

(i.e. knee injections, sutures, etc.)
3 Complimentary Acupuncture Visits with Premier Membership - Treatments after only $50
Holistic/Integrative Medical Consultations available
Wholesale labs done in-office 
Certain Wholesale Prescriptions sold at our office
We pass our benefits right to you.
Discounts on Vaccines & In office Medications*
Great pricing on radiology (X-ray & MRI)
Advanced Wellness Screening Discounted

(i.e. Functional Allergy Testing)

Discounts on Massage, Personal Training & Dietician visits
FREE Specialist E-Consults from RubiconMD with Premier Membership